Editorial
    • Editorial - September 2007

Rosh Hashanah 5768
    • Responsibility

Interview
    • Power and Morality

Report
    • Gush Katif – Two years on

Judea and Samaria
    • Dogs and Men

Analysis
    • Occupation? Whose Occupation?

Science
    • Capability and Humility
    • Saving Lives

Art and Culture
    • Women in the Shoa

Georgia
    • Jerusalem and Tbilisi

Crime and Justice
    • Zentai case

Ethic and Judaism
    • Justified Invasion?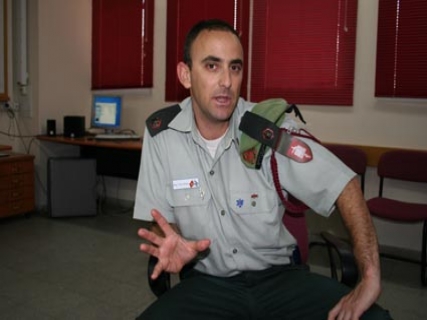 Major Yotam. (Photo: Bethsabée Süssmann)
The sound of automatic weapons and exploding grenades crackles everywhere, there's smoke, in fact the classic setting for a battlefield. The sound of a helicopter landing can be heard, and several wounded soldiers are lying on the ground. Suddenly, two or three military doctors or medics come running up. In no time they make a preliminary assessment of the situation and then rush to the most seriously wounded soldier, who has taken a bullet in his chest. The commander says, "Give him morphine," and a soldier kneels down next to the wounded man and asks, "Can you hear me?". On which battlefield are we?
In fact, not on one at all. A few steps away, a medical student, closed up in a sealed room, is managing from his computer our injured man's blood pressure, oxygen level, the amount of blood he has lost, the closing of the cardiac ventricles (either left or right), etc. We are at the Military Center for Medical Simulation, where completely computerized plastic dummies let the IDF's men and women, who tomorrow will be called upon to act on the battlefield, train and learn which moves save lives.
At a military base near Tel-Aviv we were met by Major Yotam, Chief Instructor of the Army's so called "Medical School". He is in charge of the study and educational programs at this training center, together with the teaching methods employed, of which the medical simulator plays a central role.

What sort of training do young soldiers get who are posted to one of the army's medical units?

In Israel there is just a single military medical training center that receives students from every section of the armed forces, the air force, navy and ground forces. It is not a medical faculty in the civilian meaning of the term, since it does not train doctors, but rather prepares medics for every aspect of military medicine. Civilian doctors get there training here as military doctors. As part of their compulsory military service we receive young people with an average age of 18, who have no prior knowledge, no training and obviously no medical experience of any sort. We have a few months to train them to save lives. I know that in general the army is not an institution for saving lives, in fact the opposite is true. In our school, saving life is the supreme objective and the most important value. All our students and instructors are well aware of that. So we have 9-12 weeks to train nurses and medics and we get about 2,200 recruits on average each year. In order to let them acquire the knowledge, we start from the beginning, with basic courses of anatomy and general physiology, which we concentrate on for two weeks. Once this basic knowledge has been acquired, we leave theoretical learning, which takes place comfortably installed indoors, and take them out to meet the realities in the field. The environment in which our trainees will usually have to work is dark, noisy, stressful and even terrifying. That's why from the third or fourth day of the course, we take our students out for field training. We of course have special courses for combat medics, but we also train nurses who will work in hospitals, often field hospitals.

How do you select your students?

You first need to understand that it is not obvious teaching an 18 year old about the value of life. But we work at it. Some of our youngsters have already been allocated prior to joining the army because they are often members of rescue groups, have taken first-aid courses etc. Others are in combat units, where they were identified during their active service as being particularly suited to join our ranks and be trained in the medical field. They come to get a medical combat training, and then return to their units to serve as medics. Having said which, the candidates sent here possess extraordinary human qualities, because to be able to take responsibility for saving the life of a comrade who is losing blood, who is crying out for help, and who one can sense is slipping away, you have to be tough and psychologically very well-balanced. We put a particular stress on teaching human values such as dignity, friendship and handling pain.

Apart from classes for nurses and medics, what other courses do you teach?

When someone joins the army, they are fully taken in hand medically, in terms of care, emergencies and prevention. That's the reason we train dental assistants and other specialist fields. We also have a certain number of shorter courses that are targeted more particularly at medical technicians. We also train people to be able to use and operate the full gamut of technology involved in our computerized plastic dummies. Incidentally, that training then provides them with the possibility of obtaining work at the Medical Simulation Center (see article, Capability and Humility).

What about training for qualified doctors?

Courses for medical professionals are divided into two, one part for medical professions and the other for doctors. In respect of the first part, I can cite the case of a medic who has to take responsibility for everything medical in his battalion. He will not study at a Magen David Adom course or even in our combat medicine courses. There is a special, 10-week course, during which the person learns how to organize all the medical issues in a battalion. The longest course we offer lasts a year, for training rescuers. These best meet the army's needs because they are used to working under emergency conditions, outside of a hospital. They do know what this sort of professional ought to know in order to work in civilian life, but we have to add the military aspects. It's one thing to get involved with a road accident, however serious it is, or to provide first-aid to someone who is having a heart attack, but it is quite another thing to provide first-aid on the battlefield and to work under special stress conditions. As far as doctors go, as I told you, the army does not have its own medical faculty and our doctors come from civilian life. Even though every citizen is obliged to do his or her military service at the age of 18, the army permits medical students to defer their active service and even has a system of scholarships for them. By the end of their studies, these doctors have wide academic knowledge and some medical experience, which, however, was obtained in civilian hospitals where they are backed up nurses. These know the hospital and their department inside out and have been trained for four years. In a field hospital there are no nurses but rather military medical orderlies, who have received an excellent training that lasted 10-12 weeks. A doctor has to learn to recognize and work in a completely different environment from the one he had known. His patients, too, are different. The average age of patients in regular hospitals is between 55 and 75, and they suffer from the illnesses typical of persons of their age. In a military hospital, the patients are just a bit over 18, they are not ill but wounded or suffering from stress etc. For example, when a young soldier does a 60 km forced march carrying a 30 kg bag on his back together with his weapon, which is also heavy, his body bruised in some way. Doctors encounter lesions that they would not meet in civilian life and they must know how to treat them. Military bureaucracy is quite different from the civilian one. Courses last 14 weeks, however, after 7 weeks, doctors for clinics and combat doctors have separate, two-week courses, and they then come back together to finish the training. By the end of the training, the men who leave for the field are ready and know how to handle most situations with which they will be faced. On this very point, the computerized medical simulator we have installed here plays an extremely useful and effective.

A very large part of the Israeli army is made of reservists. Do you work with them, and if yes, what do you do to fit them into the military medicine framework?

The answer is of course yes, and we make them take a cycle of training as well as refresher courses, which, depending on the units they are in, might take place each year or once every two years. The problem with these men is that throughout the year they pursue civilian activities that can be very distant from military medicine. A reservist doctor, for example, might be the medical advisor to an insurance company or a pharmaceuticals company. We of course also have Emergency Room doctors, surgeons and anesthetists among them, but they are far from being the majority. Those men who join us for a period of active service are therefore not used to treating patients who are seriously injured, and furthermore have to be saved under extreme conditions. When they come here, I have one week to prepare them.

What do you do?

The first day I put them into the most catastrophic scenario they might encounter. If they can handle it, we are off to a good start. However, because of the shortage of time we labor under, training is done straight away within the battalion, often in a tent, in extreme heat, and with people who have just one idea, to go home. So our instructors have to be convincing, interesting and sufficiently strong to get all these people actively involved in a course from which they should emerge being able to save lives!
This appears to be "mission impossible", and yet our instructors succeed very well, since last year, during the Second Lebanon War, all our men came to us to help us save lives. All have taken the oath to risk their own lives to save the lives of others, whoever they are and wherever they are. In Lebanon our rescuers were on the front line, inside Lebanese houses with our troops. We suffered thirteen killed from among our ranks, people who had accepted to pay with their own lives to save their comrades.

Does every battalion have its own medical team?

Every military activity has a medical framework. However, it obviously varies from case to case, and depends on the risk level, evacuation possibilities etc.

What other training sections do you have?

In the traumatology department, set up in 1998, we have obtained user rights for a system called the "Advanced trauma life support system" from the American College of Surgeons, which is a doctrine specially developed by that organization for emergency care and surgery. Here we give two courses in this field, one for treating traumas in civilian life and one for military. We are the only institution in Israel qualified to teach this doctrine. This also means that any doctor who wants to specialize in emergency medicine or anesthesia, has to take our courses. This can sometimes create quite comical situations, such as that of the Palestinian woman who as part of the traumatology course at Hadassah Hospital in Jerusalem, had to come to take our course on our military base…

You have said that the most important part of your mission is saving lives, which after all is only normal for a Jewish army, since in Judaism life is the very highest value. But what is the moral basis for what you do, and do you have your own ethical code?

Obviously, and it is that of the IDF, based upon Jewish tradition, Halacha, the Torah, the traditions of the State of Israel and our military traditions, in which human dignity constitutes one of the main elements.
The last part of our training deals with training instructors and is the part for which I am personally responsible and prefer, preparing for the future and the teaching methods of tomorrow. In this connection, we are about to install an identical simulator to the one we already have for combat medicine, but for a field hospital. I will wind up by saying that representatives of armies from around the world visit us to get ideas from what we do, and I too travel widely to present what we have done and to instruct other armies. What is terrific in this area is that contrary to other military activities, we can spread around what we are doing and share it with those who have the same objectives as we have, saving lives!